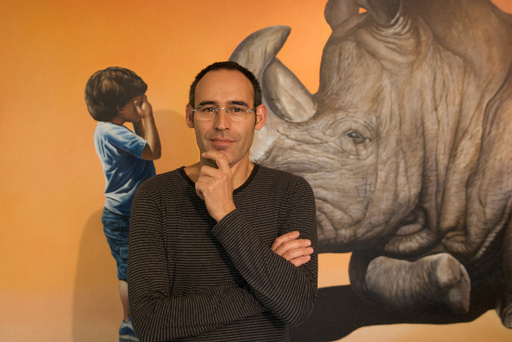 Gustavo Fernandes:
Personal information:
28/09/1964
Adress: Rua Egas Moniz, Nº 9, 2780 – 072 – Barcarena Oeiras
Contacts 919785280 / gustavof@netcabo.pt
GUSTAVO FERNANDES

Born in Lisbon, 1964. Lived for 13 years in Canada, in the periods of 1975/1979 and 1981/1989.
Attended the Plastic and Graphic Arts programme at Dawson College and studied the techniques and methods of Betty Edwards's «Drawing from the Artist within» and «The Natural way to draw» by Nicolides, in Montreal.
In the interim of his two-year stay in Portugal, he works under the guidance of the portrait artist Francisco de Oliveira. His first contacts with the artistic and cultural scenes took place in Montreal, where he had his first exhibitions. He returns definitely to Portugal in 1989 setting up the bases of the Atelier of Artistic Development –Arcos Gallery (Oeiras) which he will consolidate in 1992. In 1993 he is co-founder of the Group Artitude (with Luis Vieira-Baptista, Magnus de Monserrate and Victor Lages).
His cultural and professional artistic activities in the market have become autonomous and have evolved since then, yet without losing the individual and close contacts that emerged with the most gratifying synergies of the Group.
He was a member of ANAP – National Association of Plastic Artists (ALAP/UNESCO) until 2003. He's been invited to represent Portugal in the International Event "Buddy Bär Berlin GmbH", in Berlin, Germany, exhibition of BBB in Kitzbuehel, Austria. He also participated in the Fair Import shop, "Oceans of Cultures" through Arte Viva, Berlin, Germany. In 2004 together with the sculptor Rogerio Timóteo he inaugurates the art space Gepigai for the Ministry of Internal Administration in Lisbon, and participates in the Fair of World ART+DESIGN in the Mess Berlin through Arte Viva " Under Different Skies"
He is represented in the Linhares Art Directory 2005-2006.
He was represented trough 4 Portuguese Galleries with 16 Paintings in the III Fair of Contemporary Arts in Estoril. -2005
He exposed in Atlantic Pavilion (Parque das Nações) in Lisbon and in Europarque in Sta Maria da Feira (Porto) through Epal and Grundfos.-2005, and in Casino of Estoril trough "CEDEMA" (Parents and Friends of Adult Mentally disabled) for solidarity purposes, sponsored by the Portuguese President: Dr Jorge Sampaio -2005 Represented by Galveias gallery in Fil, Contemporary Arte Fair "Arte Lisboa" in 2005-2007
Two movies made by Álvaro Queiroz in His studio figure in the Cinematic Portuguese Archives (ANIM) (National Archive of Moving Images)
Paints the portraits of the last and present Bastonairy?? of the Order of Nurses of Portugal-2007
Presents an individual exhibition in the (Museum) Cordoaria Nacional inserted in the Alternative Fair of Lisbon– 2008
He is prized with a medal of honour in the Wine Museum of Bairrada – 2008, this exhibition has the presence of the President of Portuguese Republic.



EXHIBITIONS
He has had a total of more than 220 exhibitions, divided into: 42 individual shows, 35 group shows with and without the Group Artitude (21 integrated in activities of the Group Artitude between 1993/03) besides participating in more than 165 collective exhibitions from 1983 to 2008.